BSP Life contributes $37k towards COVID-19 relief efforts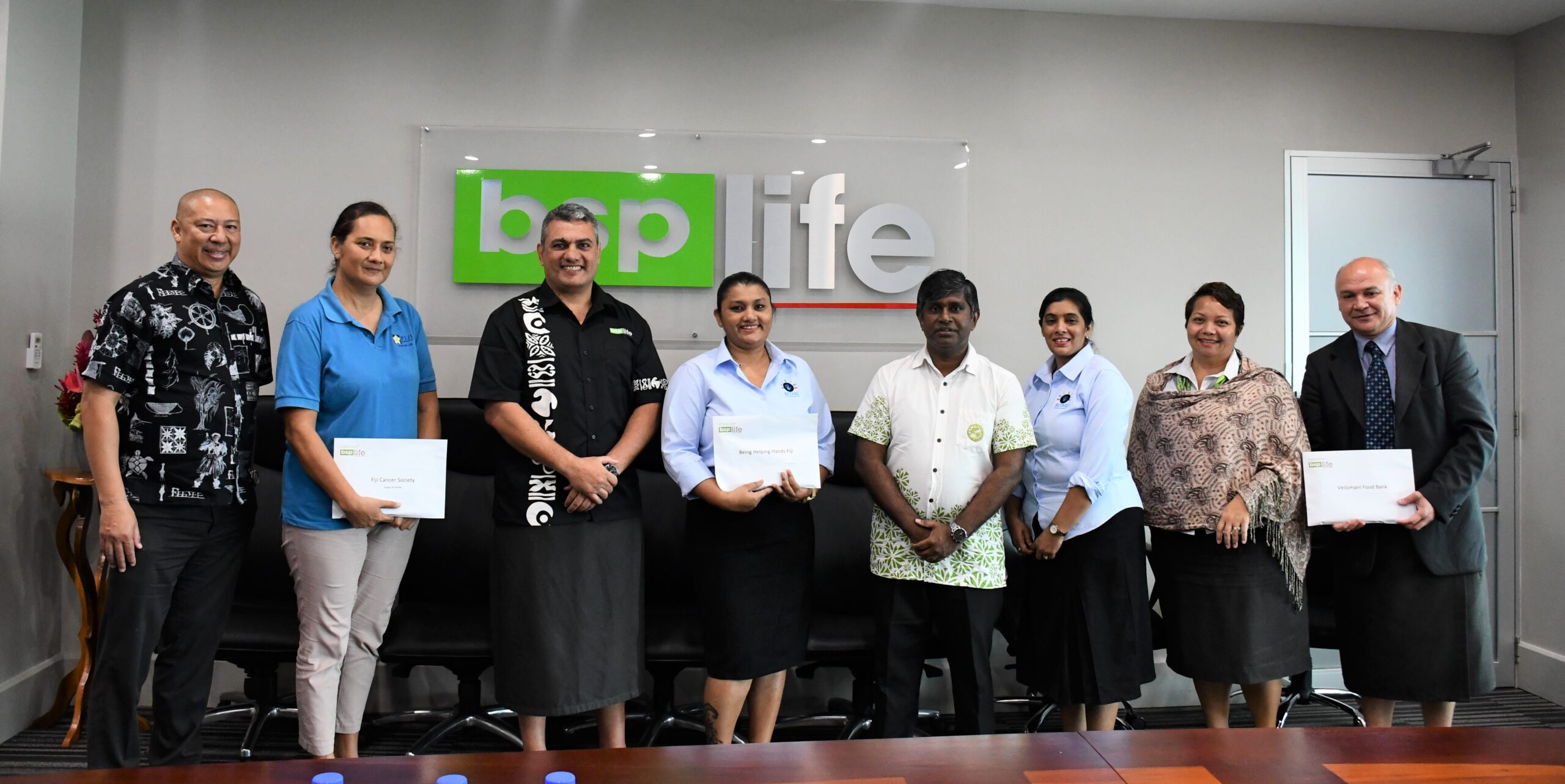 To assist families affected by the impacts of COVID-19, BSP Life donated $30,000 towards the pandemic relief efforts this morning. The donation was distributed to Fiji Cancer Society – Hope at Home, Veilomani Food Bank, Being Helping Hands Fiji, as well as workers in the tourism sector. This is in addition to $7000 that was raised by BSP Life Staff through internal fundraising efforts with food packs distributed in June to families in the Central, Western and Northern Division. BSP Life Managing Director, Mr. Michael Nacola stated, "we see and hear of heartbreaking stories every day of families finding it difficult to make ends meet during this crisis.
We hope that this small donation will go some way to supporting those in need. We applaud the effort of the various organisations that are coordinating the assistance programs and urge everyone, including Corporate organisations, who are able to assist to do so in whatever way possible. We are in this together and our Veilomani spirit will carry us through these turbulent times." Ministry of Housing and Community Development Permanent Secretary Mr. Sanjeeva Perera thanked BSP Life for the donations. "The most important thing is to work together. It is partnerships like these that enable us to assist our community and we are grateful to BSP Life, as part of a strong business community for coming forward and providing the much needed assistance," he said.
Other organisations expressed similar sentiments. Fiji Cancer Society Chief Executive Officer Belinda Chan said the commitment of the Society is to see that no one fights alone. "These food vouchers will greatly assist our patients when we conduct home visits. This will be handed out to those who are being cared for at home and to those who are currently admitted," Ms Chan said. "Our sincere appreciation to the management of the BSP life for the kind gesture that ensures that those battling cancer receive the support they need.
This will definitely put a smile on their faces," Chan added. Being Helping Hand Fiji Founder, Raazia Mohammed said "We are overwhelmed with the support from BSP Life.Through this donation, a lot of families across Fiji will be assisted through our ongoing Leave No One Behind Appeal and those suffering in silence." Meanwhile, BSP Life staff also supported the Black Thursday Campaign by wearing Black today to promote human rights and justice for victims of Sexual Violence and Gender Based Violence. The Campaign, which is a BSP Group-wide initiative, was launched by BSP Group CEO, Mr. Robin Fleming last week.