Investment Portfolio
Did You know that by investing in BSP Life products that have an investment backed benefit, You are part of Fiji's largest commercial institutional investor? Yes, that's correct. After the Fiji National Provident Fund, BSP Life now stands as Fiji's second largest institutional investor and Fiji's largest commercial institutional investor.
Over the last 13 years, our Investment Portfolio has grown from $369m to $1.03b, an increase of $631m. This is in excess of 100% increase over the last 10 years at an average compounded annual growth rate of 8.44%.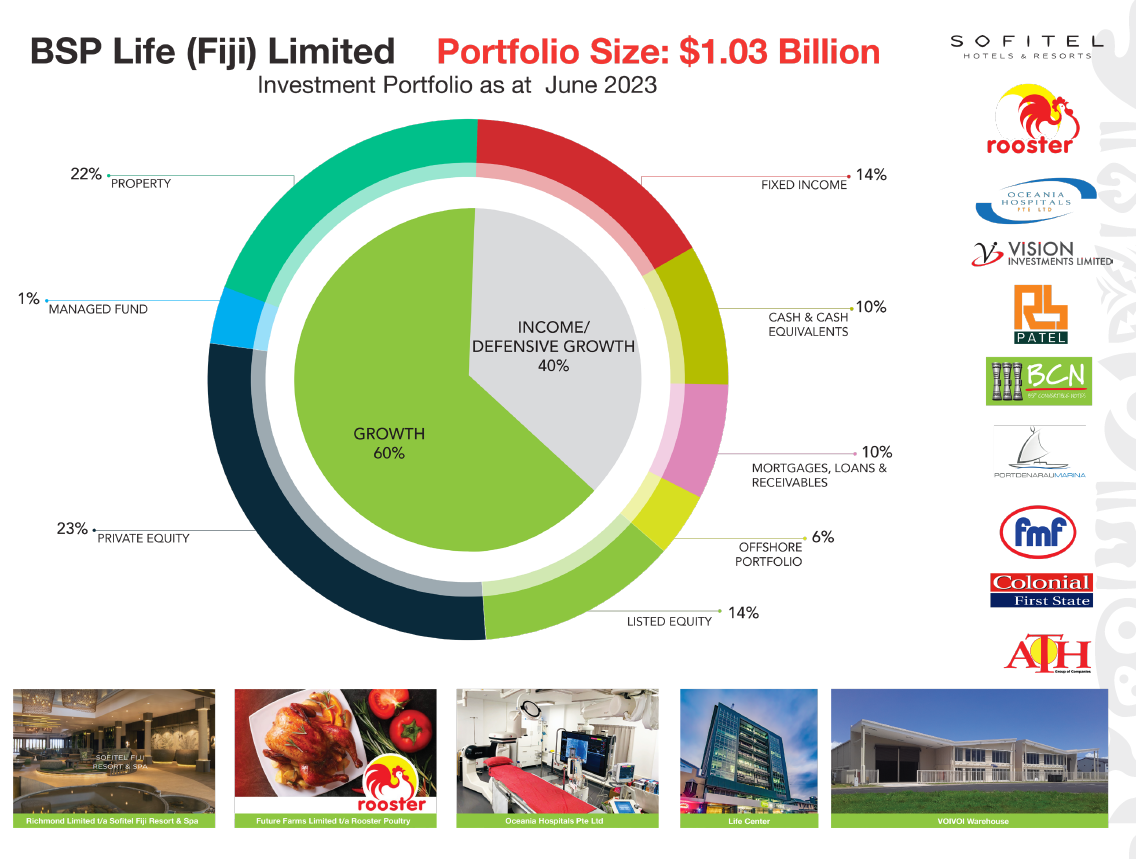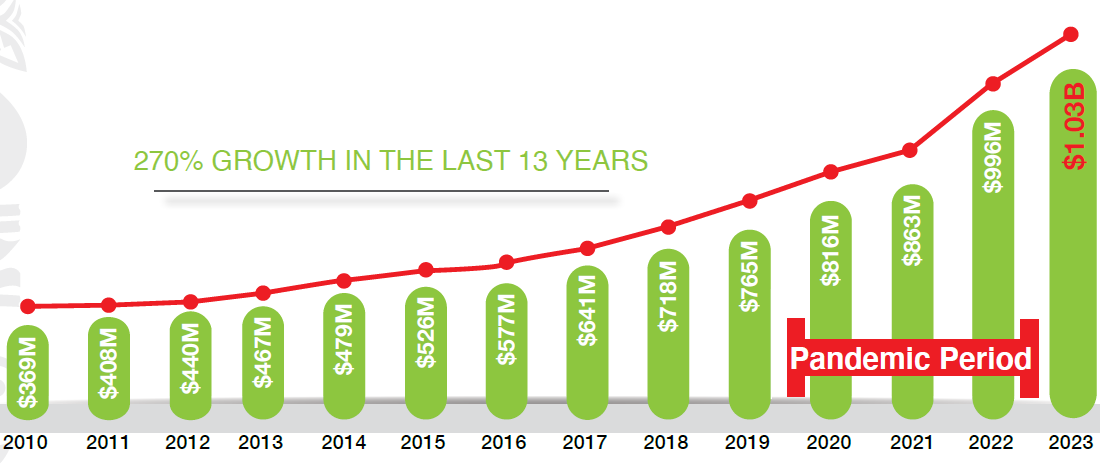 What happens to your premiums at BSP Life?
Our investments are well diversified to ensure we build sustainable value for You. Individually it is difficult for each of us to acquire large investments, but collectively through the pooling of all the premiums we collect, we are able to invest on Your behalf and build wealth for You through the BSP Life Investments Portfolio. Today, our investments include:
1. Government Bonds – a sustainable investment with desired returns that helps Government build national infrastructure. So, Your investment with us helps Fiji grow.
2. Private Equities – these entity investments provide returns in the forms of dividend and capital growth part of which are passed on to You as Bonuses. These investments are in key sectors of our economy such as Tourism & Hospitality, Health and Manufacturing & Processing and collectively employs around 2,200 Fijians. Our top five (5) Private Equity investments are:
i. Richmond Pte Limited (Sofitel Resort & Spa in Denarau)
ii. Future Farms Pte Limited (Rooster Chicken)
iii. Oceania Hospitals Pte Limited (OHPL)
iv. Suva Private Hospitals Limited (SPH)
v. New World Limited (NWL)
3. Listed Equities – these are investments in our stock market providing greater breadth in our asset portfolio which helps us diversify our investment risk. They provide attractive returns by way of dividends and capital appreciation like private equities. 
4. Our top five (5) Listed Equity Investments are:
i. Vision Investment Limited (VIL)
ii. R B Patel Group Limited (RBG)
iii. BSP Convertible Notes Limited (BCN)
iv. Port Denarau Marina Limited (PDM)
v. FMF Foods Limited (FMF)
5. BSP Life is one of the largest property owners in Fiji, owning iconic commercial properties in the Central and Western divisions, residential properties such as the Domain in Suva plus industrial warehouses.
6. Other investments include Offshore term deposits, equities & managed funds, local managed funds and term deposits with commercial banks and financial institutions in Fiji.
About BSP Life Investments
BSP Life ensures your premiums are invested in secure and safe investments providing you with consistent returns. The Reserve Bank of Fiji monitors our investments to make certain that our investments are low-risk and ensures that we are able to pay out future claims. BSP Life strives to maintain a portfolio that allows for quick liquidation of investment to pay claims. It is a well-balanced portfolio of investments spread across Bonds, Fixed Deposits, Properties, Mortgages, Equities, etc.
Why do we invest your premiums?
By investing your premiums in secure assets and making a return, BSP Life can offset the cost of claims and charge you less than you would otherwise pay. Profits made from returns on investments are paid out in the form of annual bonuses. So, your investments are safe and secure with BSP Life. It ensures protection for you in times of need and provides returns that secure you and your family's financial future. Invest with us today!