BSP Life Policyholders Benefit From $30M Record Bonus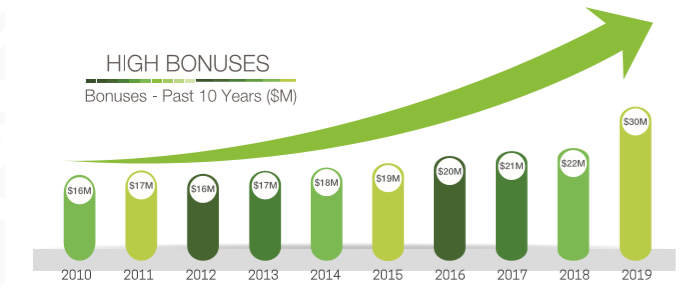 BSP Life customers will be sharing its record-breaking Bonus allocation of $30 million for the 2019 financial year.
While making the announcement, the Managing Director Mr Michael Nacola said, "I am delighted, on behalf of our Board and the BSP Life Team, to announce the Reversionary Bonus rate for 2019 as 2.5%, increasing from the Reversionary Bonus rate of 2% in 2018. The Terminal Bonus rate remains the same as 2018 at 0.85%. The total estimated bonus allocation for the 2019 financial year is $30m, the highest ever in BSP Life's over 140-year history."
Mr Nacola added, "The bonuses are calculated on the sum insured of life insurance policies, not on premiums paid, which delivers extremely good value. In addition, the Reversionary Bonus, once declared, is guaranteed and is calculated on a compounding basis, adding further value for customers."
"The increased bonus allocation is the culmination of efforts by the entire BSP Life Team, past and present, over the last ten years to build value for our customers. We recognise that our customers have choice. So, when they entrust their hard-earned funds with us, whether it's $20 a week or $1000 a week, we take this investment seriously, and do all possible to deliver strong value now and in the future."
The total declared Bonus allocation grew from $16m in 2010 to $30m in 2019. Total bonuses declared over the last ten years amounts to approximately $196m.
Mr Nacola further explained that by investing in BSP Life products that have an investment-backed benefit, customers were part of Fiji's second-largest Institutional Investor; second only to the Fiji National Provident Fund.
The BSP Life Investment Portfolio has grown from $369m to $765m, an increase of $396m in the last 10 years. This equates to over 100% growth in 10 years at an average compounded annual growth rate of around 8.44%.
It was on the back of this strong growth that BSP Life was able to increase the Reversionary Bonus rate to 2.5% for the 2019 financial year.
The BSP Life investment portfolio was $765m as at 31st December 2019. Investments are well diversified across a number of investment instruments and industries to ensure sustainable value for customers.
Mr Nacola added that the BSP Life team continues to look for new ways to provide better experiences and enhanced value for customers.
"Our team is continuously innovating. Sixteen months ago we launched a new product called Bula Delite, and we're pleased to advise that over 5,000 Bula Delite policies have been sold, of which 70% are for first-time customers, most of whom are below the age of 30. Earlier this year, we launched two new single premium products called Bula Secure and Bula Secure Plus, for those who are not able to pay premiums over long durations."
"In addition, we've launched a new website that is modern, easy to navigate with on-line quotation facilities to enable anyone who is interested in obtaining life or health insurance to access information readily, 24/7. We've also launched a customer self-service portal called MY BSPLIFE allowing customers to access their policy information directly on-line."
Mr Nacola added, "as a leading financial services provider, BSP Life is committed to promoting financial inclusion, providing our people access to products that are affordable, have investments benefits- with a strong value proposition."
Mr Nacola further added that BSP Life was offering assistance on a case by case basis for those impacted by the COVID-19 situation.
"We trust that the news of the 2019 bonus allocation provides comfort to our customers in these challenging times. We also understand that circumstances have changed for many of our customers and we are here to help as best we can, to ensure we support them maintain their policies.
"BSP Life customers can contact us via the self-service portal on our website www.bsplife.com.fj, email us at bula@bsplife.com.fj or call us on 132 700 in relation to any queries they may have."