"BSP Life stepped in as soon as I was admitted, I am grateful. I am forever grateful."
Apakuki Vunibola | BSP Life Customer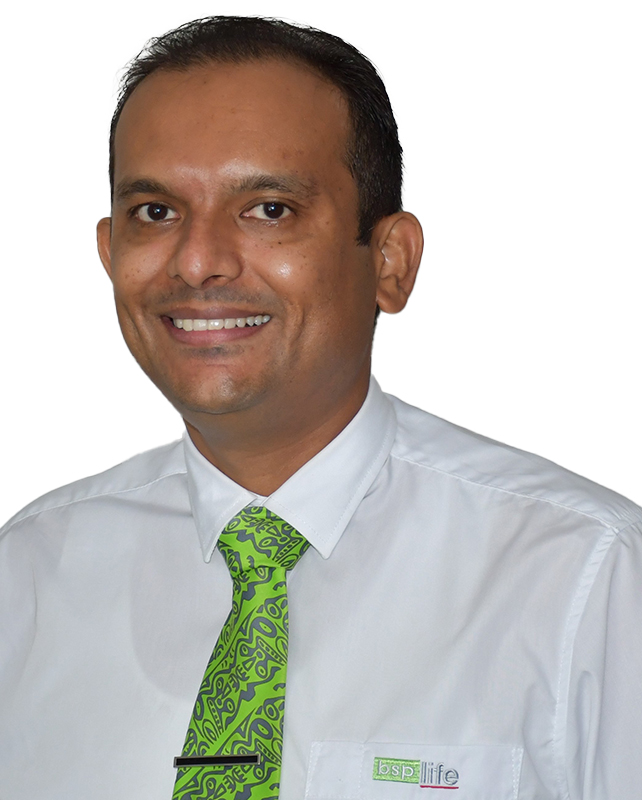 Viresh Chandra
CHIEF INFORMATION AND TRANSFORMATION OFFICER 
Viresh Chandra is the Chief Information and Transformation Officer. He oversees our Information Technology, Information Security, Digital Innovation and End to End and Business Transformation initiatives and provides overarching IT support for our wholly owned subsidiary companies. Viresh started his career with Colonial in Information Technology (IT) in 2003 and progressed to Manager Systems Assurance in 2009 and then Manager Operational Risk in 2010. As a senior member of the Core Systems Change Project from 2013 to 2018, he was instrumental in the successful implementation of the core insurance administration system.
He has strong business acumen with a firm understanding of our business; in-depth IT and Operations experience; with vast knowledge of internal processes, systems frameworks and digital needs and manages key technology and solution provider relationships. Viresh graduated from the Leadership Fiji program in 2018 and the Beyond 360 Advanced Development Program in 2019. He successfully led the IT team through the pandemic in 2020 and 2021 scaling up full Work-From-Home capability for more than 80% of our staff. His maturity, experience, and passion will support the step up in our digital and transformation agenda.
Viresh is an active member the Leadership Fiji Alumni Association and the Institute of Internal Auditors.